When you enter any pet shop, you will find a plethora of dog treats for your furry companion. You will find both natural and commercially processed dog treats. Dog treats are used for a variety of purposes, including training, rewards, and sometimes just to show their dogs how much they love them!
However, the important thing to bear in mind is what kind of treats you are giving your dog and how much you are giving them.
This article will explore the different natural dog treats, their benefits, and the harmful effects of processed dog treats.
What Are Natural Dog Treats? 
Treats are the best way to supplement your dog's food. The treats will add a unique flavour, and the dogs will really enjoy it. Natural dog treats come in different sizes, shapes, and flavours, but most importantly, natural dog treats are super healthy and packed with nutrients. 
Some common natural dog treats are:
Single Protein Dog Treats
Single protein dog treats contain a protein known as a "novel" protein and comes from a single source that the dog may not have previously been exposed. Some dog treats are made from a combination of ingredients like beef and chicken, but a truly hypoallergenic dog treat is made up of just one protein. When you feed your dog a new source of protein, it will help prevent a negative response from the immune system.
Crunchy Treats
Crunchy dog ​​treats come in different flavours, sizes, and shapes. Crunchy treats include cookies, healthy bars, and biscuits. However, to benefit your dog these treats should ideally be made from natural ingredients. It is essential to select treats that meet health standards for high-quality ​​treats for dogs.
Some natural ingredients used in crunchy dog ​​treats are honey, crunchy peanuts, bananas, yogurt, white fish, potato protein, sweet potatoes, and chicken. Always check the ingredient list for crunchy dog ​​treats as they should not contain artificial flavors, colors, preservatives, corn, or wheat.
Freeze-Dried And Jerky Treats
These treats come primarily in the form of the liver, poultry, seafood, and beef. These treats are most often used during dog training because they have desirable and unique flavours, and dogs will do anything for them. These treats are great for all dog breeds.
Dental Chews 
Dental chews and treats are not prepared from bones or animal hides but are made from hard digestible materials like sweet potato, cornstarch, and glycerin. These treats are made to help dental health because it takes a lot of effort to chew and often contain ingredients like mint & parsley which can improve breath and help with digestion. Dental chews are much safer than real bones, but great care is needed when feeding them because it can lead to intestinal blockage if the wrong size is ingested. You should also check tht your dental sticks only contain natural ingredients and do not have any chemical/processed colourings, flavouring or fillers that could harm your dog.
Human Food Treats
Human food can be healthy or harmful for your dog; it all depends on what you are feeding them. The most common healthy human treat used for dogs are carrots, apples, and some seafood. But there are certain types of human food to avoid, including cookies, salted crackers, hot dogs, cheese,  and junk food. 
Similarly, also avoid human foods that contain seasoning and sauces. Also, never feed your dog food containing raisins and onions, as these can be harmful and poisonous to dogs. Many pet owners are unsure as to whether they can feed their dogs garlic. In small amounts garlic can have numerous beneficial health effects for dogs.
Air-dried dog treats 
Air-dried treats contain mostly meat, and that meat has all of the moisture evaporated through slow air dehydration. This process does not involve any heat treatment. Air-dried meat has all the nutrients (enzymes, amino acids, proteins, and vitamins) preserved and does not harm it. As you know, dogs love to eat meat, and giving them their favorite treat makes sense. The most popular air dried treats include poultry (chicken/turkey/duck- feet, necks, wings), beef (tripe, pizzles, paddywhack), sausages and seafood (sprats, fish skin cubes, flatties).
Natural Treats Vs. Highly Processed Mass Volume Treats 
Most pet owners, when they visit the supermarket or commercial pet shop, get stuck buying highly processed treats. Modern dog owners however are increasingly prefering to feed their dogs air-dried raw natural treats and avoid commercial treats laden with toxins and chemicals. However, you must bear in mind that treats only make up a small portion of the dog's diet. Below is a full discussion between natural dog treats and highly processed mass-volume treats.
Natural dog treats
All-natural dog treats are best for your dogs because they are not made through heavy processing, and no chemicals or additives are injected into them. Air dried raw natural dog treats have all the nutrients intact and help improve your dog's health. Natural treats help to maintain your dog's healthy weight, improve digestion, aid in RBCs formation, and remove tartar and plaque.
Processed dog treats
The dark truth behind most commercial dog treats is that they are unhealthy for your dog. These treats contain chemicals, toxins and are processed with no guarantee of quality or health benefits. Because these treats are made through heavy processing and exposed to very high temperatures during the manufacturing process, the nutrients and chemical composition are altered and often lost altogether. 
As a result, manufacturers often have to add artificial ingredients to balance the nutritional profile. These artificial ingredients add many toxins to your dog's diet and lead to many diseases. With long term exposure to such chemicals, additives and filllers your dog may experience health problems with their digestive system, as well as other secondary problems like skin irritation and poor coat quality.
Health Benefits Of Natural Dog Treats 
There are many health benefits of natural dog treats, and some of the common benefits are detailed below.
It helps the body in the fight against disease and illness
All dogs, regardless of their size, breed, and activity level, need adequate nutrition. But dog bodies are not as tough as humans, and they can get sick from different unhealthy materials entering their system.
That is why dogs need a completely nutritious diet. When you give your dog a 100% natural treat like sprats, it improves your dog's heart health and increases their heart function. It also helps the body fight arthritis symptoms. Another natural treat, the beef trachea, contains chondroitin and  glucosamine which can help maintain healthy joints and can fight inflammation.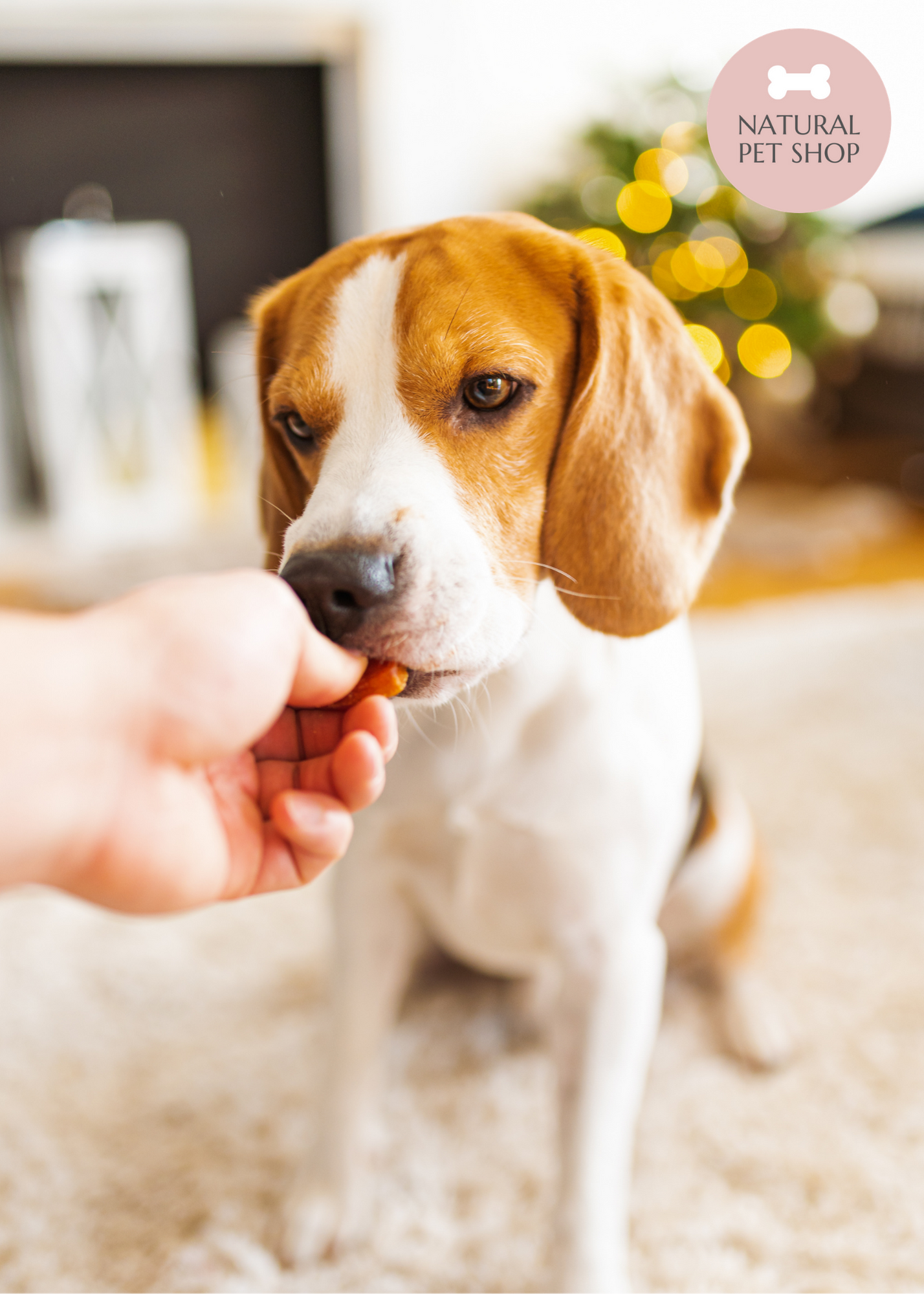 Improved Appearance and brain health
There is a famous proverb that says, "you are what you eat," and that saying is also applicable to dogs. When you give your dogs unhealthy treats, problems will show up later in life. Certain dyes, preservatives, and hormones can seriously affect your dog's appearance. Itchy skin, rashes, excessive shedding, and dull fur are some of the problems that can appear due to long term use of poor quality treats and dog food.
Natural treats containing fish and salmon oil can improve your dog's brain health and function. Similarly, feeding your dog sprats several times a week can improve the health of your dog's coat and reduce problems like itchy, dry skin.
Better digestive health
It is recommended that you don't feed your dogs high-fat, hard-to-digest, highly processed treats. Those dog treats that make stools harder will make defecation more difficult. This can damage the rectum and cause bloody stools. 
Furthermore, feeding your dog with highly processed treats that contain additives, colouring and nutrionally deficient fillers can result in vomiting, flatulence, and watery stools.
A natural treat like air dried beef liver is very healthy for dogs with a sensitive stomach because it is easily digestible and contains many vitamins and enzymes. Similarly, natural treats like the furry rabbit ear can help solve many digestive problems because it contains natural fibers that increase bowel movement, whilst the fur/hair can remove worms from the intestine.
All those natural dog treats which are fiber-rich can help to facilitate digestion and improve your dog's digestive health.
Stronger Dental Health
Bad breath and rotten teeth are not easy to hide in dogs. If your dog has gum health problems or tartar or plaque, you will catch a rotten smell whenever your dog is around.
In addition to brushing your dog's teeth regularly, you can give them natural dental treats that can improve their gum health. Natural dog treats such as air dried raw venison skin, beef trachea, and rabbit ears act as a natural teeth cleaner and removes tartar and plaque from your dog's teeth.
Best Natural Dog Treats
Many natural dog treats are available for dogs, and dog owners often stick to a single brand/type of treat. However, as most dogs love new smells and tastes we recommend that you try feeding your dog a variety of dog treats each week/month. An easy way to do this is to buy a monthly treat subscription box from Natural Pet Shop. The treat box you will receive will be filled with natural dog treats along with one or two eco-friendly dog ​​toys. 
What's inside the treat box?
The most popular box is the MegaBox treat box and includes:
⦁ Treats made with 100% natural ingredients.
⦁ Most of the treats are single-protein dog treats.
⦁ These treats are gluten, grain, and wheat-free and contain no chemicals or additives.
⦁ The eco-friendly dog toys are made with recycled/sustainable/natural materials and are suitable for all dog breeds.
⦁ All treat packaging is EN13432 Certified compostable and bio-degradable.
Summing Up
Natural dog treats can be a wonderful addition to your dog's diet due to their many health benefits. Whilst they may cost a little more than the cheap mass produced treats on most supermarket shelves, the additionsl cost is, in our humble opinion, worth every penny.